Local garage in Melton Mowbray
Offering car repairs, servicing and MOT testing.  We also offer free tyre and battery checks.
Our workshop is equipped with latest technology, excellent facilities and a team of professional mechanics to solve every vehicle-related need and to give you the best possible service.
Your Safety is our Priority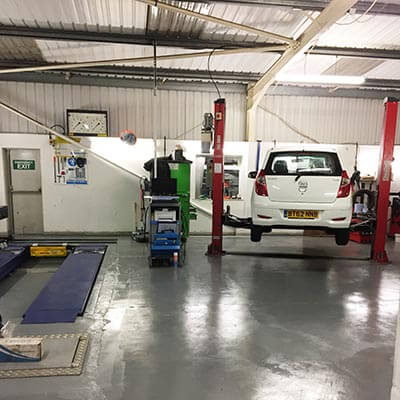 " Fantastic little garage in Melton Mowbray. Have been driving for 3 years and always pop in for MOT's and for any mechanical work doing. Low prices and always do a fantastic job. Guys there are friendly and really know their stuff. Couple of nice Astra's available there too if you don't have a second set of wheels. Could not recommend enough.
Ciaran Leeman

" R&T is my new favourite garage, hands down. I spoke with Alan who is a top bloke, he took my car in after a bodge job from Kwikfit and immediately recognised the things they'd done wrong; replaced my Power Steering rack for the lowest price I got after an hour of calling around Melton in less than 48 hours. 10/10 - am definitely using from now on.
Harvey Bolton

" Top place. fitted me after hours and did a great job, and at a great price...highly recommend you check them out, you won't find better in Melton Mowbray
Mark Lyon

" Very friendly people did the job efficiently within the timescale suggested. Car runs beautifully again. Will definitely be using these guys for any future repairs required. Highly recommended.
Roger Thornton

" Brilliant service, great friendly staff that no there stuff have used them for years onmy fleet of company vehicles and mine and the wife's cars
Neil Young

" Fantastic garage! Lovely guys that work there. My partner took his car other week for a window repair and they fixed it there and then FOC. I've been a few times with 2 different cars and each time has been quick, efficient and great value for money. Would highly recommend
Stacey Wood

" Took my car here for its timing chain to be replaced not a small job.. fantastic friendly service great bunch of people.had my car back before I knew it highly recommended
Dan Chell

" Wouldn't go anywhere else. can't recommend enough.
Rosie Miller

" Really pleased with the work done, well priced and completed quickly. Would recommend anytime and use myself again.
Val Stapleton

Vehicle Maintenance
Vehicle maintenance is crucial to your car's long-term performance and quality of operation.
Service Extras
We offer local collection and delivery of your vehicle as well as a courtesy car at your convenience (subject to availability)
Reliable delivery schedule
Accurate time slots and delivery times are allotted to each vehicle delivered to us.
Round the clock service
Our team attends to emergency breakdown and repairs at any time of the day, and even on weekends and holidays.